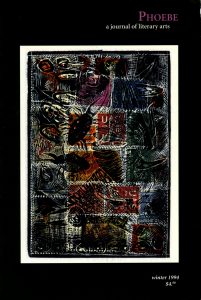 Eric Pankey
O my God, looming and rough-hewn,
Forge me with rage. If this is the purge
Ferret out and scald the cold grub
Burrowed in at my heart. Let havoc
Consume its nest and larder.
Let your gold cauter staunch the wound.

Fall inviolate sledge, and be known.
Blast away the sawdust and matchwood,
The ash-fall and rusted filings.
Let me be your wedge, let that edge
Gleam from use, burnished as it divides
The flawed from this hammerdressed world.
Eric Pankey is the author of many collections of poetry. A new book, AUGURY, is due out in 2017 from Milkweed Editions. He is the Heritage Chair in Writing at George Mason University where he teaches in the BFA and MFA programs.